Every man wants to give a high quality, beautiful ring to the woman in his life. Yet for many, purchasing diamonds can be expensive and somewhat stressful. Fortunately, there some insider tricks of the trade which can help stretch the budget without compromising on quality, style and beauty.
____________________________
Tip #1: Finding Cheap Diamonds
Pave, antique and vintage styles utilize tiny diamonds (sometimes pinpoint in size) to create the illusion of a much larger diamond when framed around a smaller center stone.
Pave settings are also often found in luxurious and elaborate designs which look and feel more expensive than their simple diamond solitaire counterparts. Pinpoint diamonds are cheap–wholesale they can start at only a few dollars each for the smallest carat weights.
The above ring has a .34 carat center stone (but a .79 carat total weight). The cost and specs? Fantastic, and it is under $2000.
To save even more money, opt for four small diamonds in place of one center stone. Many jewelry stores will offer these types of "center stones" as a good price point (and they should be substantially less than one large center stone).
Please note: diamond chips are not desirable for jewelry because they are not faceted and do not sparkle like pinpoint or melee diamonds.
Tip #2: Finding Cheap Diamonds
Knowing where to compromise can help you save big. Often jewelers will insist on a D color, FI (internally flawless) clarity stone, when in reality no one may be able to truly appreciate the difference between a slightly lower color and clarity stone. The savings, however, can be substantial.
Clarity: Usually VS1 and VS2 are more affordable options. Ensure that the stone is at least eye-clean (no flaws visible to the naked eye).
Color: A white, colorless D diamond is going to sell at a premium price and the average consumer will not be able to appreciate the high color grade. In fact, a G-I graded diamond is considered near colorless and will suit many people and is substantially more affordable.
Tip #3: Finding Cheap Diamonds
Avoiding the mall and opting to buy online will yield fantastic deals. The low overhead means the savings can be more readily passed onto the customer. Read more here about how to find the best diamond deals online.
Tip #4: Finding Cheap Diamonds
Looking for a one carat diamond? Opt for something slightly less and save big. Diamonds are sold per carat and there are unusual industry-wide price variations. For instance, a 1.00 carat diamond can be 20% more than a 0.95 – 0.99 carat diamond and the difference is imperceptible. Try to compare the price variances for diamonds around the .90 – .99 carat weights. Although great deals, they may be a little more difficult to come by but can certainly offer great savings.  A trick of the jewelry trade can be to round up the carat weights to 1.0 carats as much as possible, so do your homework and shop with a reputable jeweler.
Tip #5: Finding Cheap Diamonds
Some settings will help make the diamonds look more glamorous and substantial. For instance, settings with side-stones are fantastic for creating a visual illusion.
Illusion settings utilize a small mirror under the prongs which help reflect more light up towards the diamond, making it appear larger and more brilliant.
High prong settings can really make a diamond stand out  and appear larger (but make sure that she knows to use extra care because it can be more prone to snagging and hits). Use these settings to help save on unnecessarily buying a larger diamond than needed and pocket the savings.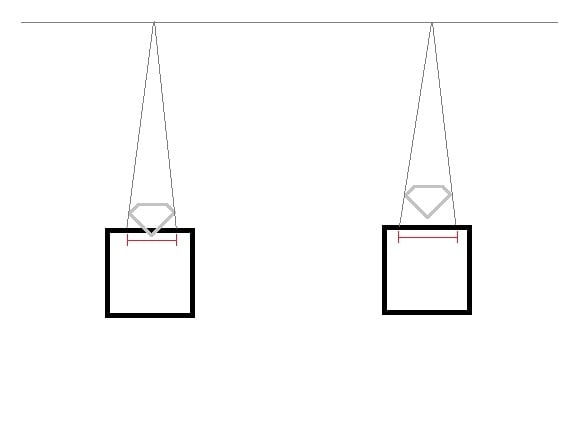 Images courtesy of Rotham Collection, Ritani, DiamondsDC and Price Scope.