Unique Engagement Ring Ideas
There are many couples who want engagement rings you won't find in the case of just any jeweler. Engagement rings are supposed to represent the couple's new life together, and most want it to be as unique as their relationship.
Unique Engagement Rings: Exclusive Styles and Designs 
Styles will vary between couples; what one couple finds to be unique will be considered a common find to another. Therefore one of the best things you can do is experiment with different styles to see what everyone has to offer – doing this will allow you to choose the perfect ring.
Unique Engagement Rings: Celtic Designs
One trend that is becoming more popular among couples who are engaged is Celtic rings. These rings are made of never-ending knots that create a complex pattern. It is believed that the rings represent bringing two people together for lasting love.
To appreciate and understand intricate and delicate Celtic knotting, you don't need to have been born from Irish or Celtic descent. There are some jewelers who are able to add personalization such as initials, gemstones, a favorite knot pattern or another design of your choosing. One popular look for this ring is made from two metals of different color that wind around each other.
Here are some options:
–      Genvara: This jeweler is well-known for carrying a great selection of Celtic rings that are from several types of metals, stones and designs.
–      DeSignet: This jeweler is based in Buffalo, NY and they carry many ready-made Celtic rings, but can also custom make ones to your wishes. They make them from various metals, styles, and types of stones.
Mokume Gane – Very Unique Engagement Rings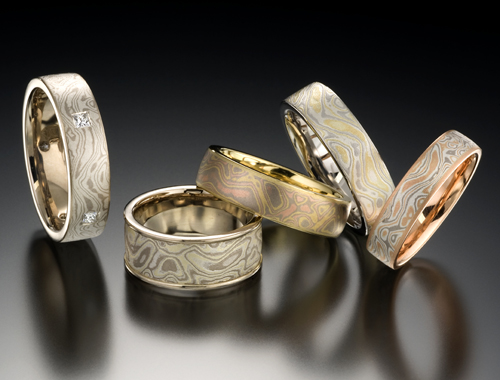 These rings are intricately patterned with a Japanese style that uses various metallic alloys with and without stones for both men and women. Since Mokume Gane rings are rare, you must custom order them; however be careful as they are nearly impossible to resize if you make a mistake.
Here are some Jewelers that can help with this kind of ring:
–      Krikawa: This company offers styles that range anywhere between simple and elaborate custom-made pieces that can come in many settings and lacking stones.
–      Andrew NYC Designs: Here you'll find a great selection of this style ring. They sell them with diamonds or gemstones, or simply metal bands.
Unique Engagement Rings Using Different Gemstones
Without a doubt, diamonds are the most common gemstone used for engagement ring settings. However, if you want a more one-of-a-kind design you should check into alternative stones like mystic topaz, aquamarine, or tanzanite. If you must have diamonds, you can still add them as a centerpiece or to simply complement the other gemstones. You can customize them by turning to birthstone rings, where the stones are related to bride and groom, or their anniversary date.
These kinds of rings are not only gorgeous, but they are also colorful and usually quite affordable.
–      MySolitaire.com: If you check here you will find a large selection of gemstone center stone and solitaire rings in options such as coral, citrine, topaz, peridot and more.
–      Bell Jewels: At this store you'll find a wide selection of gemstones that range from green amethyst and garnet, to tourmaline and quartz; among many others.
Colored Diamonds Make For Gorgeous and Unique Engagement Rings
Some of you may want to put a unique spin on the traditional diamond, and you can do that too! Just check out colored diamonds, as they will open up a new range of choices for you. The first thing you can do is get a lower quality normal diamond as it will have either a yellow or brown tint to it. However, you can also find colored diamonds in green, pink, blue, yellow, or red.
Here are some examples of Jewelers that carry colored diamonds:
–      Zales: This chain retailer is a popular store. They offer a large selection of colored diamonds that vary from red blue, to black and green.
–      Leibish & Co: This jewelry store carries rings that are ready-made, but they come in many colors. In addition, they stock loose diamonds that can be used in a custom setting. They will let you choose between pink, purple, champagne, and more.
Vintage or Antique Make for Unique Engagement Rings
Unfortunately, most families do not have antique engagement rings that are passed from generation to generation; instead couples must find their own heirloom ring alone. Antique rings are sold in many places including consignment and pawn shops, estate auctions, or even online websites. Yet, be careful to make sure you are getting what you are paying for.
Here are a few places to begin your search:
–      Brilliant Earth: This company carries a larger than ordinary collection of antique and vintage styles that are highlighted online to make viewing easy.
–      Lang Antiques: This jeweler is a great place to find rings that range from elaborate to simple places, both antique and vintage.
Figural Design
This type of design is specially made to look like a different shape. For example, gemstones or diamonds arranged to look like the petals from a flower or other similar pattern. Other popular designs include ribbons, plants, initials and animals.
Examples of where to buy this style include:
–      Gemvara Flower Shape: This figural ring shows a nice flower shape in a gold setting with a white sapphire in the middle.
–      Ross Simons Bow Shape: This ring features a striking bow-shaped stone on a yellow gold band.
Filigree Design
This design features a collection of complex rings that have engraved metal accents that are similar to Celtic rings, but do not have the same cultural roots. These rings can use different shapes, gemstones or other important symbols.
The following jewelers carry a lovely collection of Filigree rings:
–      Stuller: You can visit this company's website when you want a two-tone white and yellow gold filigree-style ring that has a diamond center stone.
–      The Marlene Harris Collection: This Company allows you to pick between many filigree styled rings that commonly feature diamonds and other stones.
Additional Unique Engagement Ring Options
For couples who want one-of-a-kind classic ring designs, here are some other unique options you may like:
–      Pick a metal that is unique. For example, tungsten and colored titanium are rarely used in engagement rings. Other unique gold shades like rose and sage can also help to create an eye-catching ring that is rather unusual.
–      Choose a unique stone shape. Since princess cuts, round stones, emerald cuts and even marquise stones are common in engagement rings, you can choose something less comm. Like cushion, Asscher, trilliant, or pear cuts.
–      Have the ring engraved. One sure fire way to make a ring unique is to have initials, specials dates or other special sentiments placed inside. This will personalize the ring in a very subtle way.
–      Choose a less common mounting style. The most popular is the classic prong setting. On the other hand, opt for settings such as tension, bezel, pave, cluster, or flush.
–      Forget about the engagement ring altogether! There are many couples who simply choose to pass-up the engagement ring. They do so for many reasons, but they improve by either adding an eternity band or using the wedding band alone. Other couples may replace the engagement ring with a necklace, bracelet or nice pair of earrings.
–       Design your dream ring. The only way to make total sure that your ring is unique and the only one like it is to have your own ring custom-made.
Your New Beginning Together
The key to choosing an engagement ring that is unique is to choose one that captures the groom and bride's personality, as well as the overall love the couple share for each other. Regardless if you choose to represent this love with a family heirloom, ethnic ring or other custom design, your life as a couple will begin with this choice, so make the best of it!