When most people think about engagement rings, white diamonds usually come to mind. However, brides looking for something a little more unique might consider black diamond engagement rings. Whether used in a solitaire or as accents, black diamonds are a fascinating choice that will certainly turn heads.
Black Diamond Engagement Rings in a Solitaire Setting
Black diamonds can be used in solitaire settings to provide a fresh and contemporary twist on a classic style.  The dark hues of these black gems look stunning against the liquid metal colors of platinum, palladium or white gold. Whether alone or with subtle white diamond side stones, a black diamond engagement ring is ideal for brides who want to make an impressive and fascinating statement.
Three Stone Black Diamond Engagement Rings Rings
Symbolizing the past, present and future, three stone diamond rings are a popular option for couples who always want to be reminded of the journey of their love. Black diamonds fit well into this type of setting, either with a white center diamond with black side stones, or with a black center diamond with white side stones. This setting presents a strikingly beautiful and symbolic option for the modern woman.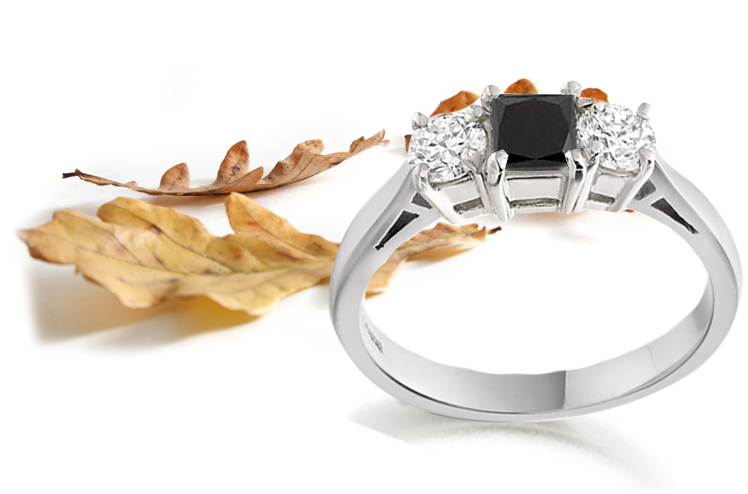 Black Diamond Engagement Rings: The Complete Bridal Set
Without question, a bridal set consisting of black diamonds will be one of the most unique and impressive options any woman can choose.  Both the engagement ring and wedding band can be set with black diamonds among white diamonds in a remarkably beautiful manner.
Vintage Black Diamond Engagement Rings
Although originating from a bygone era, vintage or antique engagement rings are an increasingly fashionable choice for many brides-to-be. Their intricate engravings and elaborate designs provide interest to all aspects of the ring.
Halo Black Diamond Engagement Rings
Despite black diamonds not having the same fire and brilliance as their colorless counterparts, they can be used in a beautiful halo setting. Halo settings, also known as "boxter settings" are a stunning way to surround the black center diamond with dozens of sparkling white diamonds. 
Pave Black Diamond Engagement Rings
An increasingly popular design for engagement rings is the pave setting, which beautifully incorporates both black and white diamonds to create a dramatic effect. White diamonds provide the fire and brilliance that black diamonds lack, yet together they make a perfect pair.
______________________________________________
Although we usually think of white diamonds when envisioning engagement rings, there are stunning alternatives which provide interesting and beautiful options for the modern bride.
Images courtesy of Rotham Collection and SND Gems.