Each year celebrities get engaged and create a flurry of activity on the internet. Pictures, proposal stories, jewelry store purchases and details of the wedding begin to emerge. After the engagement is official, the top question asked is, "What does the ring look like?" Keep reading to find out the engagement ring choices of the first half of 2012 for inspiration for your next jewelry purchase.
Celebrity Engagement Rings: Jessica Biel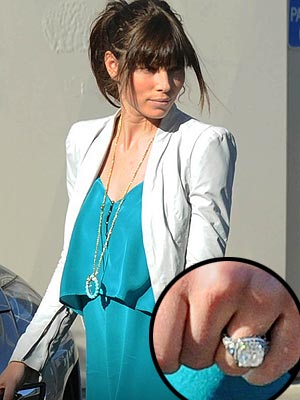 Pop star Justin Timberlake proposed to longtime girlfriend Jessica Biel over Christmas in Jackson Hole, Wyoming. The engagement ring is a beautiful square cut diamond custom vintage design. Because she has so rarely shown it in public, it has been difficult to determine the exact details. It is a diamond encrusted band with a halo surrounding the square center stone–and no doubt a very expensive one at that.
Celebrity Engagement Rings: Drew Barrymore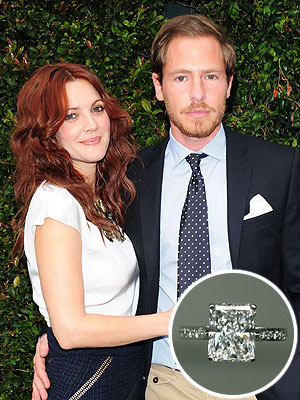 Another celebrity to get engaged in 2012 was Drew Barrymore. Will Kopelman proposed to her in beautiful Sun Valley, Idaho over New Year's. The engagement ring is a stunning Graff 4 carat radiant cut diamond set on a sparkly diamond studded band. The radiant cut diamond is different from a princess cut is significant. In fact, the two cannot be compared directly. A radiant cut diamond has more rounded corners, more facets and is cut in a completely different manner. It is considered to be a fancy, dramatic diamond. Drew Barrymore's ring exemplifies this in its large carat weight and flawless cut and clarity.
Celebrity Engagement Rings: Camila Alves
Camila Alves became engaged to Matthew McConaughey over Christmas and has been shown sporting a unique rose cut diamond ring with side stones. Most people may not have heard of the rose cut because it is generally only known as one of the oldest cuts around. Considered antique by all standards, it looks similar to how a rose looks before the petals are opened. This is a 500 year old design which utilizes the entire stone when it us cut, leaving little waste. However, the downside to this cut is it has less facets and therefore does not have the fire and sparkle as other more intricate cuts. Many European diamond cutters abandoned this cut when better technology and cutting techniques emerged. With the finest color, clarity and cut, this stone is still a beautiful option.
Celebrity Engagement Rings: Angelina Jolie
This engagement ring set the fashion and bridal world talking. Brad Pitt designed a custom ring for his long time actress girlfriend and he spared no expense in doing so. Designed by an exclusive Beverly Hills jeweler, this ring boasts massive emerald-cut diamonds and is estimated at $500,000.
Celebrity Engagement Rings: Pricilla Chan-Zuckerberg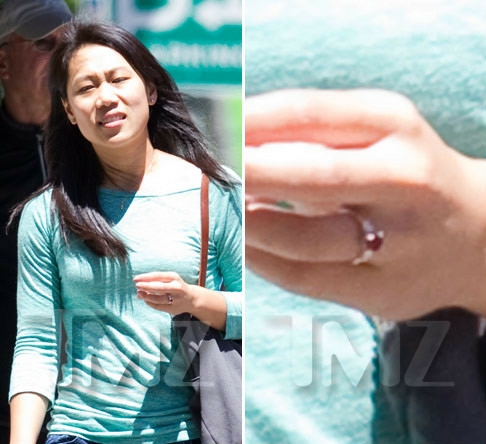 With understated elegance, this ring is a refreshingly simple choice. While detailed photos are unavailable, the ring is 2.50 – 3.0 carat red ruby solitaire with white diamond accents. Some critics have suggested it is too small by today's standards, yet it appears to be the perfect fit for her. The color red symbolizes good luck in Asian culture and rubies a symbol of wisdom.
____________________________
With price not being a factor, celebrity engagement rings can be found in any shape, color, size and cut they desire. The finest materials are used and it is common for the diamonds to be flawless and worth millions.
Images courtesy of People Watch, People Magazine, and Brides.com