Most women love both chocolate and diamonds–and joining them together creates a sparkling and indulgent gift. One of the more affordable and chic options, chocolate diamond earrings are a beautiful accessory in any woman's wardrobe.
About Chocolate Diamond Earrings
Fancy colored diamonds come in all different shapes and colors, from pinks and reds to yellows, greens, blues and even browns (also known as chocolate diamonds). These beautiful stones have a wide array of color hues, are becoming more popular and are more affordable than many other types of diamonds. From a design perspective, chocolate diamonds  look especially stunning when set with white diamonds in earrings.
As mentioned previously, chocolate diamonds are less expensive than white, colorless diamonds with an added bonus of having wide color ranges. In fact,  depending on the intensity of color, chocolate diamonds may also be marketed as champagne, cognac or honey. All warm colored diamonds in the chocolate range trend for fall wardrobes and are a hit with the celebrities.
Style Guide: Chocolate Diamond Earrings
For an especially beautiful pair of earrings, a mix of chocolate and white diamonds are a popular option, and range from simple and understated diamond stud earrings to ornate chandelier styles.  Both white and yellow gold are used in the design process and they often will match an existing diamond necklace or diamond ring.
Here are some gorgeous examples to help one get inspired: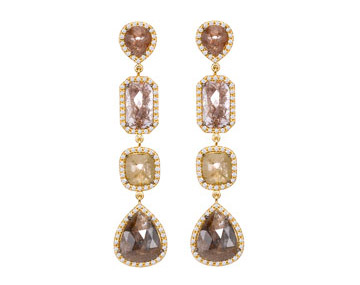 Rose cut diamond drop earrings, Sutra.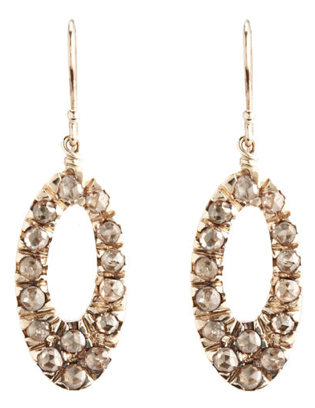 Brown diamond loop earrings, Barney's.
Le Vian Chocolate and Vanilla, Jared.com
Teardrop earrings
Where to Buy Chocolate Diamond Earrings
With this beautiful color of diamond gaining popularity, most large jewelry stores will carry a variety of chocolate diamonds in all the latest styles. . Some stores (both online and bricks & mortar) include:
Le Vian – The premier company specializing in chocolate diamond jewelry. A stunning variety and beautifully unique designs.
Jared Galleria – Carries Le Vian jewelry, selection varies from Kay Jewelers.
Kay Jewelers – Carries Le Vian jewelry, selection varies from Jared's.
Leibish & Co – A wide variety and colors including chocolate, champagne, pinkish brown, yellowish or orangy brown. Has surprisingly affordable fancy options.