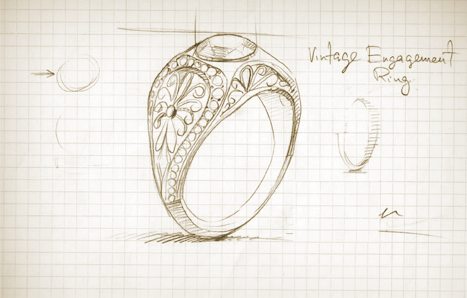 While many people find that perfect engagement ring when shopping around, others may want something a little more unique and especially designed for them. When researching how to design your own engagement ring online, there can be conflicting information. On one hand, you may want to find out how to make a custom design for your engagement ring but on the other hand, you may want to put a few options together and build a ring out of that. Fortunately, our team of experts here at The Diamond Authority can help you find the best places and walk you through the process. Keep reading to find out more on this exciting process.
Important Tips on How to Design Your Own Engagement Ring Online
Before you start working with vendors, you need to make sure you know what you have in mind and be very specific when providing details of what you want, what you don't want and possibly a few pictures of rings that inspired your vision in the first place. One of the biggest challenges in designing your own engagement ring is to convey your dream design clearly to the designer. There are so many ways one can go with ring design and some type of foundation and photos to get the creative juices going might be the best place to start.
Where to Design Your Own Engagement Ring Online
The first thing that comes into most people's minds when researching for how to design your own engagement ring online is really how to get a custom engagement ring designed. Unfortunately in the search-string "design your own engagement ring online", the main options that appear are the ones where you pick your setting, choose your diamond and that is considered designing your engagement ring. However, there are some good websites of companies that have CAD services that make rings from scratch, according to your personal and unique vision. We've narrowed it down to our favorite options here:
This company offers a simple and professional design service from designer Alice Harold, who is eager to work with clients to make their dreams (and sketches) a reality. We found the information page to be uncomplicated, helpful and easy to understand.
1791 Custom Engagement Ring Design
There is a $225 fee to have a ring designed for you in consultation with Alice Herald. Alice will ask questions about you or your partner's fashion, lifestyle, personalty, occupation, etc, and then prepare some sketches. Of course if you already have a specific design in mind she can work on your idea. Typically Custom Designs start from $5,000.
Typically 2-3 options will be sketched. Depending on your feedback, one of those will be developed into a photo-realistic picture so that you can make a final decision before purchasing. The ring will typically cost the same as a similar ring from our range.

White Flash has a good design system that allows you to provide details about your dream ring and work with them to make it happen. Fill out as much information as possible on their online design section and other requested details to get started. It costs $250 for a custom ring design service and to get the CAD model. Note that extra charges can incur beyond three revisions. Click here for more information and to get started.

If you're like most people, you might think that designing your own engagement ring is a difficult and costly experience. However, you might be surprised to find that it's more affordable and manageable than you think. With decades of experience, the James Allen CAD (Computer Aided Design) team can help make your sketches into reality.  Click here to go to the James Allen custom engagement ring design center.
After doing some research on the Blue Nile site, we found a page that lead us to a small paragraph that indicates if a customer is unable to find the ring they want, they can contact Blue Nile for "design your own engagement ring online" service. While it might be tricky to find a way to get started on the Blue Nile website, they do have a great reputation for quality and customer service.
Click here for their "Personal Shopping Service" page.
Design Your Own Engagement Ring Online: Tips for Success
1. Get pictures, sketches and all your ideas ready before chatting with the jewelry store so you are fully prepared.
2. Don't worry if it takes more than one or two tries to get it exactly how you want it. It can take time to create a masterpiece.
3. Analyze the CAD design you are given and make sure you ask all your questions so that you can keep things on the right track. Remember, CAD designers can't read your mind so speak up and talk about what you liking or not liking.
4. In the initial stages of the process you might come across a jeweler or designer that doesn't address your comments or concerns. If this is the case, it's best to find a company that will work with you to get exactly what you want.
5. Know that CAD jewelry design programs might not show a "true to form" picture of what the ring will look like until it is finalized. Be patient and remember that you can ask them to show you a before and after design and ring from other clients so you can get a better feel for the process.
6. If you want to design your own engagement ring online, it's important to realize that this can take up to a month. If you're on a tight time frame, it will be best to purchase something online that ships within 7-10 days.
7. Have fun! While it might seem like a daunting task, designing jewelry can be an incredibly rewarding and fun process. It's a labor of love to design your own engagement ring online.