With Christmas quickly approaching, gifts for that special someone are going to be on the forefront of many men's minds. Diamond pendants are a beautiful and classic gift because they come in so many different styles and price ranges. They are certainly guaranteed to please and every woman would be thrilled to receive under the tree Christmas morning.
Types of Diamond Pendants
Diamond pendants come in all shapes, sizes and price ranges. The most popular ones are the simple classics, which include:
Solitaire Diamond Pendants: Much like a solitaire engagement ring, these pendants draw the eye to a strikingly beautiful single stone. The most popular shapes are round or princess cut, however they do come in any shape and size.
Three Stone Diamond Pendants: This symbolic three stone design is a classic, with each stone representing the past, present and future. They may be arrayed in a variety of designs and usually the diamonds are channel, prong or bezel set. 

Heart Diamond Pendants:
A very popular style (especially as Valentine's Day gifts), the heart diamond pendant can be found in any jewelry store and in nearly any shape, size and design.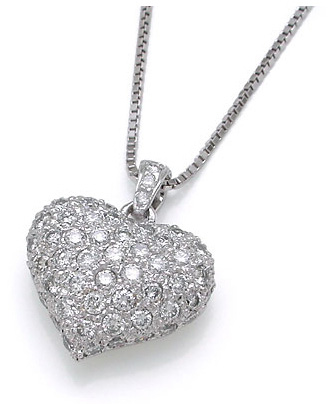 Cross Diamond Pendants:
A popular choice for many women, these pendants are a beautiful and symbolic gift which will be worn and cherished for many years. Diamonds can be used for the full cross or simply as sparkling accents.
Modern Styles of Diamond Pendants
Jewelry designers are consistently creating different types of diamond pendants to adapt to the ever-changing fashion industry. The latest trends are going towards the circle diamond pendant, sparkling initials, keys and fancy charms:
The great thing about these styles? Beautiful lower quality (and therefore more affordable) diamonds can be used since they are under less scrutiny compared to rings.
Average Prices of Diamond Pendants
Depending on the size and amount of diamonds used, pendants can range anywhere from under $100 to well over $1,000. While it may seem like a single solitaire diamond pendants would be more affordable, oft-times the more ornate designs use a lot of smaller, less expensive diamonds.
5 Helpful Tips Before Buying:
Examine the diamond under a jewelers loupe to ensure it is authentic.
Carefully inspect the quality of the pendant–the metal, stones and overall workmanship.
Inspect the chain and clasps for structural flaws.
Examine the prongs of each stone to ensure they are secure and not weakened or tampered.
Check out the jewelry store to ensure they are legit, offer warranties, good return policies and are overall a trustworthy store. If shopping online, google the store and look for reviews.
_______________________________________________________________
Images courtesy of Tiffany & Co. and Modern Jeweler.