A bride's engagement ring and wedding band look great when they are appropriately matched. A wedding band needs to complement the engagement ring without overwhelming it–and without appearing like it matches too closely. We have some fantastic engagement/wedding ring combinations that might give some inspiration and get you started.
1. Wedding Ring With A Solitaire
A single, simple solitaire engagement ring has always been a timeless and popular choice for brides. The center stone can look stunning with of any shape and cut of stone, from cushion or emerald to asscher or oval. The versatile nature of a solitaire means that nearly any wedding ring will look lovely, especially when the shape of stones are matched appropriately (i.e. a round solitaire with a wedding ring set with round stones vs. princess ones).
Photos courtesy of De Beers and Zales.
2. Wedding Ring With A Side Stone Engagement Ring
Another highly popular engagement ring often has a solitaire with side stones, set either all the way around the sides of the ring or just half way around. Either way, this is a gorgeous design which looks best with a more simple wedding ring. While some suggest resisting the temptation to have too much bling and therefore opting for a simple band, others feel that the design elements of the engagement ring can be incorporated into the wedding ring seamlessly. Just be sure that your engagement ring is always the focal point of the set (and not the other way around).
Photos courtesy of De Beers, Zales and Verragio.
3.  Wedding Ring With Three Stone Engagement Ring
Three stone engagement rings can be a flashy and dazzling option. They look best when worn with a wedding ring that has the same shape and cut of stones.
Photo courtesy of Kay Jewelers.
4. Wedding Ring With Colored Engagement Ring
If you love splashes of color and something more unique, an engagement ring and band with colored stones are a popular option. Some brides may prefer a colored center stone with an emerald, ruby or sapphire while others like to use them as accents. When choosing a wedding ring, take care to ensure it doesn't compete and distract from the engagement ring.
Photo courtesy of Sun Jewelry and Kenneth Gordon.
5. Wedding Ring With Unique Engagement Ring Design
Engagement rings with non-traditional designs that incorporate elements such as curves, arches or swirls usually have quite specific matching bands. Jewelry stores often give discounts when a set is purchased, so be sure to ask about the matching band.
Photo courtesy of Tacori.
6. Wedding Ring with Modern Engagement Ring
If you fancy a modern type of engagement ring, the best type of wedding ring to match it would be a simple one with similar lines and design details. A highly detailed, ornate wedding band would look out of place and awkward. Fortunately, most stores carry simple wedding bands that can easily accommodate a modern engagement ring for the modern bride.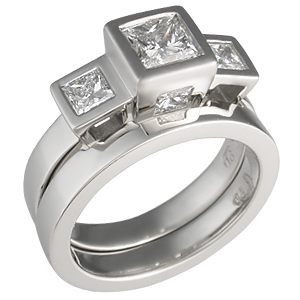 Photo courtesy of Krikawa.
7. Wedding Ring With Vintage Engagement Ring
A hugely popular style these days, vintage rings are coming back and are better than ever. These styles are generally ornate with intricate design details, sometimes hand engraved or hand beaded. Because they are so unique, it is critical to purchase a matching wedding ring in order to keep the rings in a harmonious set.