Are you shopping for an engagement ring on a budget and still want the look of large diamonds? Fortunately, there are some fantastic techniques you can use to help create the illusion of larger stones. Try these insider tips from the experts on how to get the most for your money and get the ring you've always dreamed of.
1. Unique or Fancy Diamonds
A great way to make a diamond look larger is try shapes such as oval, emerald, marquise, rectangle, or pear. These will often look more pronounced than a round diamond of the same carat weight and can even be more affordable.
2. A Thinner Band
An excellent way to make diamonds appear larger is to opt for a thin band. This will make the diamond stand out in comparison and although it can be a little more delicate, it is important to remember that 14k gold, platinum and palladium are strong metals.
3. Pave and Halo Settings
Pave and halo settings really frame the center diamond by surrounding it with dozens and sometimes hundreds of tiny diamonds.  They quite literally "pave" the setting with diamonds and create a dramatic, head-turning effect.  Some intricate pave settings might be a little more expensive, but there are still excellent deals on the market. Halo settings have diamonds which blend and surround the center stone, making it look significantly larger than it really is.
4. Illusion Setting
Jewelers create the illusion setting by mounting the diamond on a small mirror-like plate before setting the stone. This extra reflection enables the diamond to appear larger and more brilliant. The only downside to this setting is that it can be expensive to repair.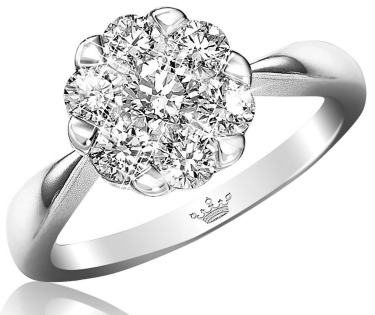 5. Side Stones
Side stones can help make the overall look of the total carat weight, since no single diamond is the focal point. With a row of diamonds, a classic three-stone ring catches and reflects light beautifully.
6. Bezel Setting
A bezel setting is one in which the stone is surrounded by a rim. When set in white gold, platinum or palladium, it looks larger because the edges blend in with the rim. Yellow gold is not recommended since it can cause the diamond to have a yellowish tint.
7. Shallow Cut
Shallow cut diamonds have more width and surface area. They will certainly appear larger but since they are not cut to ideal standards, they look less brilliant–particularly when set beside finer cut diamonds. Because of this, it is recommended that a shallow cut stone be used only for a solitaire engagement ring.
8. High Prong Setting
Higher set diamonds enable more light to come through the pavilion, enabling more light to be reflected and therefore more brilliant. Diamonds set in high prongs really stand out, but can get bumped or snagged more than lower set stones so some extra care may be needed for more rigorous activities.
9.  Metal Choice
Opt for a white gold, palladium or platinum setting, as these lighter metals will blend with the borders of the diamond, making it appear larger than it really is. The exception with yellow gold is when it is in a high prong, solitaire setting.
10. Tension Setting
This type of setting shows off more surface area of the diamond than any other setting.  It creates the illusion of a floating diamond and appears larger, but some extra care is needed as it is more delicate.