With the popularity of the princess cut diamond solitaire, more designers are finding ways to put unique and beautiful twists on a time-honored classic. Verragio, Tacori, Ritani, Scott Kay and Vatché are some of the leading luxury brands that are taking simple settings to a new level, making it possible to have an incredible piece of art on one's finger as an engagement ring. Keep reading to see the latest designs from a few of the top jewelry companies in the United States.
Verragio Princess Cut Diamond Engagement Rings
Diamond-studded swirls and interesting details make Verragio rings stand out in a crowd. Many princess-cut Verragio rings are set in the exclusive Lumino setting, where the center stone is suspended in a way for light to pass through all facets of the diamond. Below are some examples of Verragio's take on princess cut engagement rings:
 Tacori Princess Cut Diamond Engagement Rings
With a passion for artistry and elegant design, Tacori rings are worn by both celebrities and everyday women who want a touch of vogue in their life. Signature Tacori rings have interesting features that show off the miligrain or engraved workmanship from all angles:
Scott Kay Princess Cut Diamond Engagement Rings
Celebrating gorgeous designs in fine platinum and 19K gold, Scott Kay has superior craftmanship and artistry. Uncompromising in quality and design, the crown, vintage and contemporary settings are elegant and sophisticated for the most discerning of customers.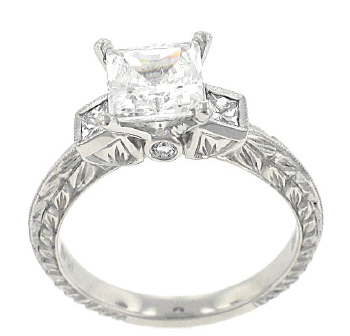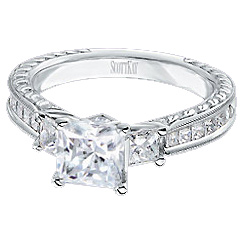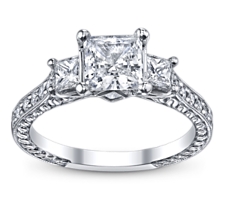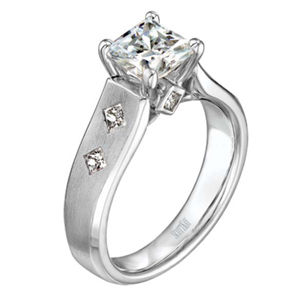 Ritani Princess Cut Diamond Engagement Rings
One of the most prominent features of Ritani rings are the unique way in which the diamonds are held. Their settings reduce the amount of metal around the diamonds which enables the maximum amount of light, making it sparkle in a captivating manner. Ritani seems to be able to brilliantly capture the perfect mix of traditional and contemporary styles, providing something suitable for every bride-to-be.
Vatché Princess Cut Diamond Engagement Rings
Elegant simplicity is the trademark of Vatché designs. This high-end designer is ideal for women who want a classic style matched with only the finest and sleekest of designs. It is the subtlety that makes his princess cut diamond rings truly a work of sophisticated art.
 Images courtesy of Whiteflash, Verragio, Tacori, Ritani, Scott Kay and Vatché.